If you follow me on social media you will probably have seen that my sister got married a few days before Christmas 2016, at Goldborough Hall near our home town of Harrogate. Long before the wedding I started my preparations, as my sister and her wife had asked me to make a ring pillow for their page boy to carry and also embroidery hoops for the wedding tables!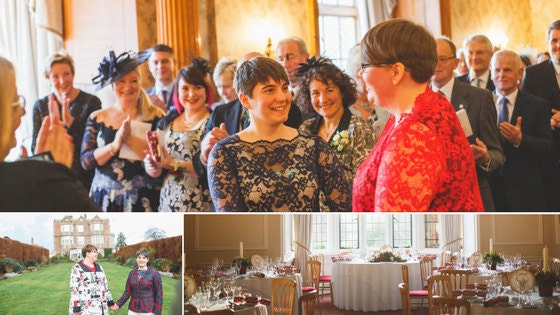 The ring pillow was relatively easy to make. I used my normal pattern for a cushion cover and just made the measurements smaller. The fabric I used was one my sister selected from my collection, a Christmas fabric with a dark red background and white snowflakes. I used some stuffing from an old pillow to create a cushion insert for the pillow and attached ribbons to the front to hold the rings (and what rings they were!! Seriously gorgeous). I also embroidered the date of the wedding on the back of the pillow.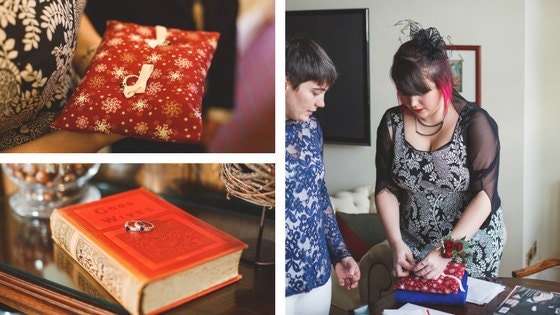 As my sister and her wife got married at Christmas they decided that the tables would be named after Father Christmas's reindeer! We also had Father Christmas for the top table. As table markers I made hand embroidered hoops for each table. I used various shades of brown for the deer heads, from both DMC and Anchor.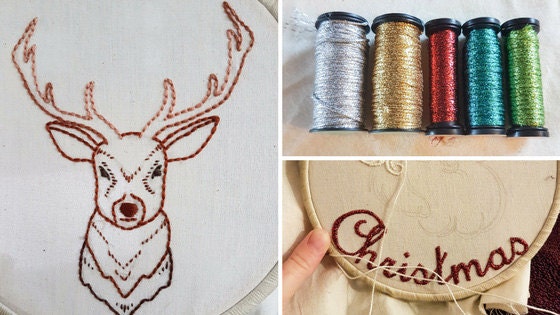 For the names of the reindeer, rudolphs nose, and Father Christmas's hat I used Kreinik 1/8th inch ribbon thread. I found that the range of colours availble here in the UK was small so I used what I could get rather than choosing specific colours. The ribbon style thread was fantastic for sewing in satin stich though, it filled up the letters pretty quickly! I think you'll agree that the glitter thread looks great on these table name hoops.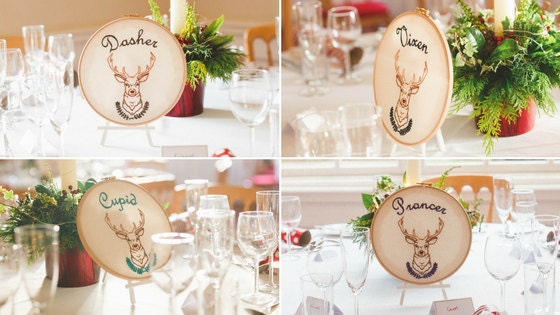 As a family we also made a few other contributions to my sister's wedding including the candle centrepieces for the tables, which were made from winter flowers and foliage collected from my parents garden. My sister's wife's aunt sang with her group during the ceremony and the reception and our Grandfathers wife played the piano as they walked down the aisle.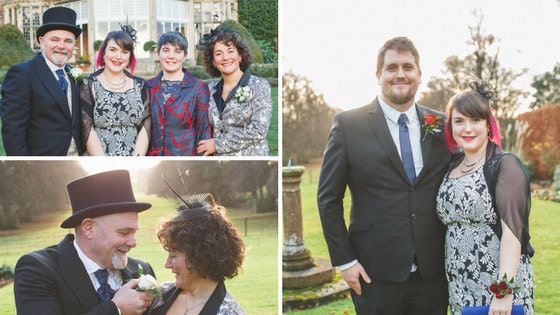 If you would like me to design something similar for your wedding tables (it doesn't need to be a Christmas wedding!) then please get in touch. 
Venue: Goldsborough Hall  www.goldsboroughhall.com
Photographer: Helen Lishman  www.helenlishmanphotography.co.uk
Brides tops and jackets, mother's of the bride's outfits and my outfit: 
Jillian Welch     www.jillianwelch.co.uk